Whole House Filters
Whole House Filters for Clean, Healthy Water from Every Tap
Whole House Filters
Whole House Filters for Clean, Healthy Water from Every Tap
Aquasana's whole house water filter systems are a whole home solution designed to reduce harmful contaminants from every water source in your family's home. Whether you use city or well water, we have a home water filtration system that will fulfill your needs. We offer Rhino 600,000 Gallons and Rhino 1,000,000 Gallons whole house water filter systems for city water, designed to last 6 years and 10 years, respectively. Our Rhino Well Water with UV whole house water filter system is made for private well water, and is designed to last 5 years. Our whole home water filtration systems are easy to maintain over time, and come with a sediment pre-filter that catches rust, silt, and other sediment present in your water. The water then goes through two filters: an activated carbon filter and a copper-zinc mineral stone filter designed to reduce chemical compounds like pesticides and water-soluble heavy metals, respectively. The Benefits of a Whole House Water Filter System When you invest in a whole house water filter system you get healthier water flowing from every tap of your home, which means cleaner water for cooking, doing laundry, bathing, drinking, and more.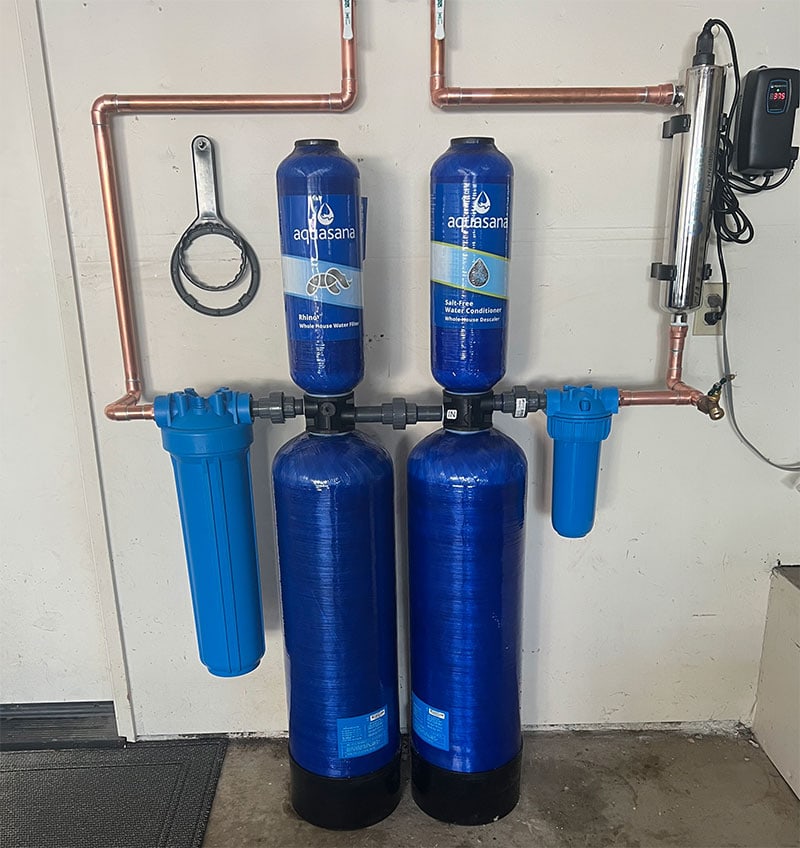 Our Rhino 600,000 Gallons home water filtration system is NSF tested and certified to reduce up to 97% of chlorine, and all of our whole house water filtration systems have been tested to reduce harmful contaminants from your drinking water.
Here are some of the benefits of an Aquasana whole home water filter systems:
Reduce contaminants in your water
Get healthier skin and hair
Improve the flavor and quality of your food and drinks
Provide healthier water for your pets and plants
Improve indoor air quality from reduced contaminants in the water
Upgrade Your Whole House Water Filtration System You can upgrade your Aquasana whole house water filter system by adding a Salt-Free Water Conditioner for scale prevention free of harsh chemicals or salt, or add a UV Filter upgrade for bacteria and virus protection. Our Pro-Grade Install Kit offers upgraded brass fittings that make your home water filtration system easier to install and maintain, a larger Pre-Filter, and a Post-Filter that catches any remaining sediment or carbon fines that may have passed through filtration. For added protection, combine a whole house water filter system with a drinking water system.
Free Plumbing Estimate
We provide free estimates for all our customers.